Nightlife at Lake of the Ozarks is abundant. From the Bagnell Dam Strip area to Big Dicks Halfway Inn at the 45 Mile Marker you will be sure to find what you are looking for.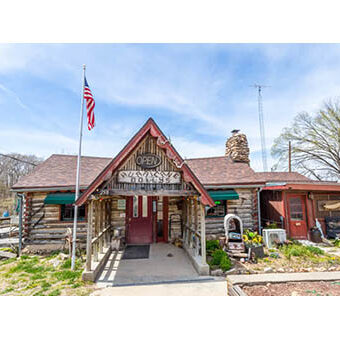 Hurricane Dolly's
A little off the road, this hidden gen is home to locals and welcomes everyone. The front of the restaurant is over 100 years old, completely built of oak logs. Dolly the current owner repaired what could be and only replaced what logs needed to be. Many years ago the "Lounge" was the home of two old maid sisters. Later it was called the "Rambling Rose". There is a slab of cement, now a part of the building that has the name on it. Dolly has been told the log cabin was once a brothel. The Chitum's founded the Trails End about 35 years ago. Mel and Shirley purchased it as a set up lounge. Everyone brought their own bottles of liquor and the owners sold the mix for 50 cents a drink. The Chitums expanded not only in space but in reputation for good food and service. I only hope I can keep up to the superb example of the Chitums. I would like to welcome you. Please relax and enjoy!! Dolly Hours of Operation: Open Daily 11 am, Kitchen open 5 pm; Closed Tues & Wed
As host site of the 1994 PGA Club Pro Championship, The Oaks was host to the largest professional tournament of its kind and challenged some of the best club professionals in the country. Its world-class golf shop and professional staff have been recognized among the nation`s finest, winning numerous awards and accolades.
Facilities include a driving range, practice putting green, professional club fitting and instruction, locker rooms, restaurant and catering services to accommodate any size golf event. Tee times may be reserved 60 days in advance with a credit card. Don`t miss playing a true classic on your next visit to the beautiful Lake of the Ozarks. Location The Oaks is on State Rd. KK, approximately two miles off Hwy. 54.
Location: 258 Trails End Rd Sunrise Beach MO 65079
Phone: 573-374-2895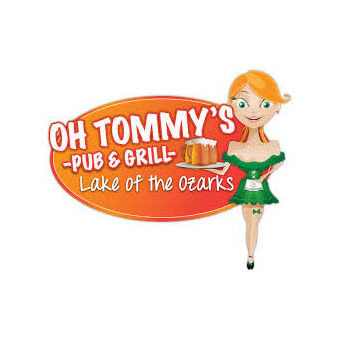 Theresa Judd has owned Oh Tommy`s Pub & Grill for 4 years in addition we have been in business for 12 years. Come join us for some great food, nice atmosphere, full service bar and good old fashion fun. Now non-smoking with a new separate designated smoking section. Oh Tommy`s has music most every Friday & Saturday night. We are worth the drive!!! Directions: 14 miles from Camdenton on MO-7N Hours of Operation: Open daily @ 11 am
Location: 6285 N State Hwy 7 Roach MO 65787
Phone: 573-347-3133

The hottest new restaurant and entertainment complex at the Lake of the Ozarks!
Location: 3076 Bagnell Dam Blvd. Lake Ozark, MO 65049
Phone: 573-693-9973